Magna Community Connection Night is just around the corner!
Magna Community Connection Night is August 21st, 2023 from 6-8 pm at Magna Copper Park! This event provides families a great opportunity to see various community resources available to them. Not only that, but there will also be pizza, outdoor games, and chances to win prizes!
We're still in need of volunteers! If you're interested helping us make this a successful event, please contact us at MagnaUnitedCTC@gmail.com – we would be so grateful for your help!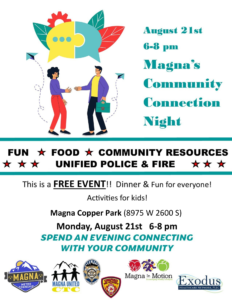 Magna United CTC Community Events
Magna United CTC participates in regular events that allow us to connect with individuals and families in our communities. Some of these events include Drug Take Back Day, Night Out Against Crime, Trick-or-Treat on Main Street, and many more. If you are interested in helping with any of these events, Magna CTC is always looking for volunteers. Please reach out to us to learn more.
Events We've Helped With:
Drug Take Back Day in April and October

Magna 4th of July Parade

Night Out Against Crime in August

Halloween Trick-or-Treat on Main Street in October

Red Ribbon Week in October

Santa Stroll and Tree Lighting on Main Street in November
Our coalition members meet regularly. See the schedule below for details on these meetings.
Community Board Meeting
The fourth Monday of every month from 10:00 am - 11:30 am
Location: via Zoom
If you have any additional questions about our upcoming events or meeting times, please contact us.
Contact Now